From Data to Action:


Harnessing Real-Time Medicare Advantage Analytics
3 min read September 12, 2023 Article
3 min read
September 12, 2023
Article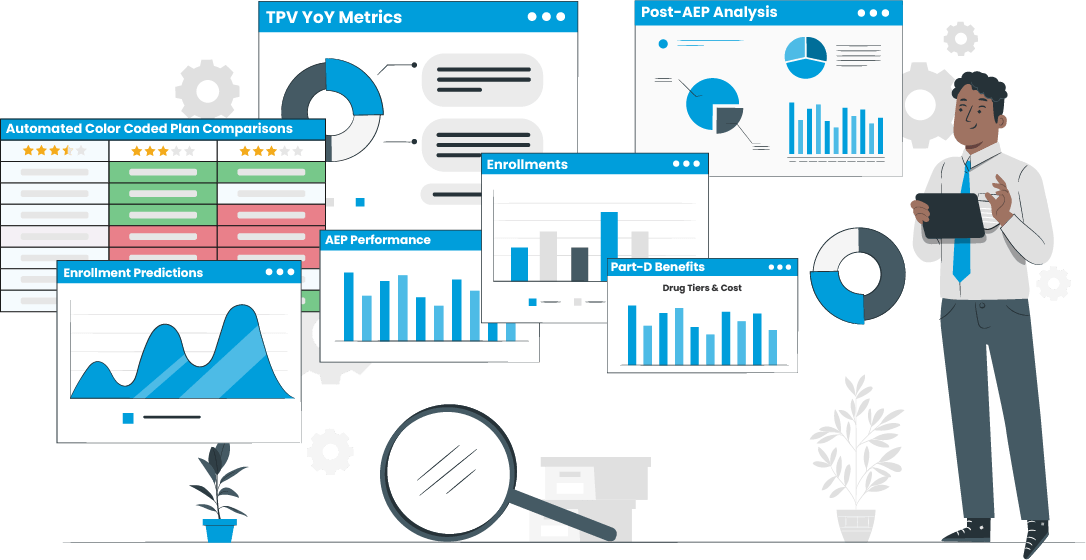 How to Transform Your Medicare Advantage Strategy using MarketIntel+™
Welcome to MarketIntel+™; explore the realm of the MA market with unparalleled precision…
Imagine being able to shorten your competitive analysis from weeks to days, days to hours, and hours to mere minutes. With this tool at your disposal, you can effortlessly analyze, and rank plans based on enrollment numbers, market share distribution, Stars ratings, and other Key Performance Indicators (KPIs). It's like having a crystal ball that reveals the market's inner workings at your command🔮.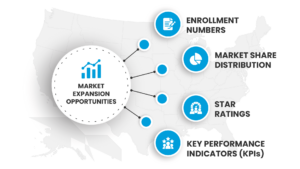 But it doesn't stop there. It goes beyond surface-level insights by helping you identify the next best markets for potential service area expansion. You can uncover hidden opportunities waiting to be seized through demographic analysis, product design evaluation, and network fit assessment. With such powerful tools at your disposal, you'll always stay one step ahead of your competitors.
Gone are the days of manual data collation and weeks of painstaking analysis. MarketIntel+™ summarizes Annual Election Period (AEP) performance effortlessly. No more sifting through mountains of data or endless segmentation exercises. With just a few clicks, you'll have comprehensive insights into AEP performance without breaking a sweat.
But what sets MarketIntel+™ apart is its dynamic market filters allowing detailed & granular insights. You can refine your (up-to-date) data with ease and gain a deeper understanding of trends and patterns within MA enrollment. The power is in your hands!
Moving on from analytics alone, let's explore Benefit Intelligence – another invaluable tool within our arsenal. Gain quick and efficient access to Plan Benefit Package (PBP) data without delay or hassle. We understand that time is money in this ever-evolving landscape.
With lightning-fast data access capabilities, complete Medicare Advantage PBP details are available within 72 hours of release by the Centers for Medicare & Medicaid Services (CMS). No need to waste countless weeks on manual processes while your competitors gain a head start. Stay in the game with MarketIntel+™.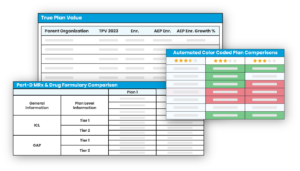 Additionally, comparing plans is made simple with automated color-coded comparisons and up to three years of historical data at your fingertips. Evaluate overall plan investment with the HealthWorksAI's True Plan Value (TPV), which measures beneficiary value beyond what Original Medicare offers. Make informed decisions that prioritize patient satisfaction and care.
And let's not forget about Part-D benefits and formulary details – crucial components in the world of Medicare Advantage. MarketIntel+™ allows you to easily compare drug tiers, costs, and formulary information without requiring file combinations or complex calculations. It's all there, neatly organized for your convenience.
Medicare Advantage enrollment trends play a vital role in understanding the ever-shifting landscape of MA. With MarketIntel+™, you can study enrollment patterns, identify growth opportunities, and benchmark success against competitors. Whether it's a year-over-year or month-over-month analysis, we've got you covered.
Accurate AEP enrollment predictions help manage expectations while tracking real-time AEP results against goals ensures you stay on track. And when it comes to major AEP enrollment shifts, our cutting-edge technology allows you to identify them and analyze their underlying causes quickly.
MarketIntel+™ is more than just a tool – it's a transformative force!
Don't hesitate any longer. Discover MarketIntel+™: Your revolutionary tool for immediate Medicare Advantage analytics. Harness its capabilities now! Schedule a personalized demo to witness the transformative impact.