Explore the Influence of Product, Marketing, Provider Networks, and Brand on Enrollment Growth.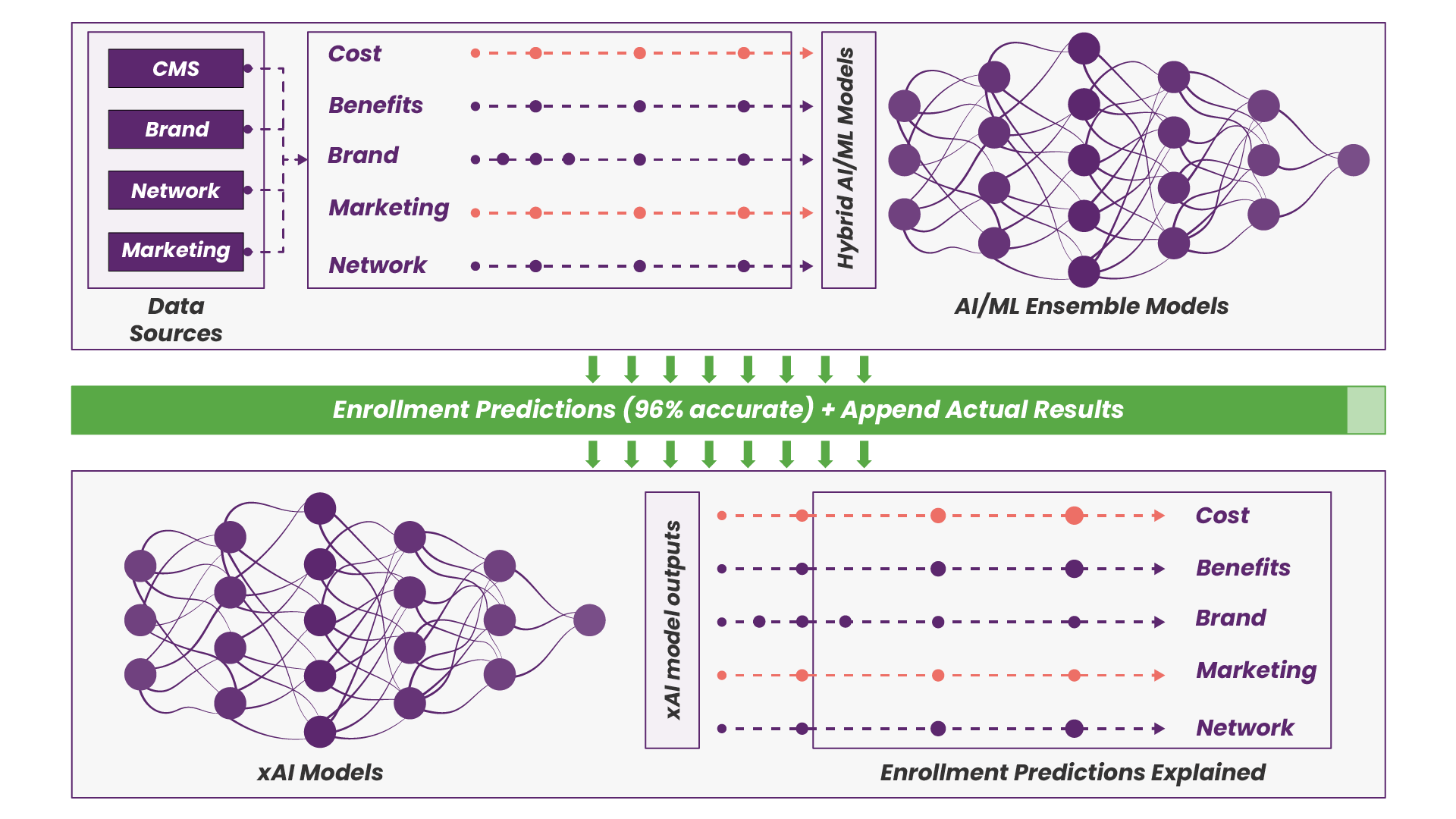 Imagine you're trying to understand why certain plans perform better than others when it comes to growth. Traditional analytics may provide you with numbers and trends, but they leave you questioning the underlying factors driving those results.
With xAI, you can delve deep into the influence of product offerings, marketing strategies, provider networks, and brand value on enrollment growth.
Experience the Cutting-Edge xAI Solution that Unleashes the Full Potential of Your Medicare Advantage Growth Strategy!
Visualization of national-level Medicare Advantage analytics & data,, including plan designs, enrollments & market share, and market expansion opportunities.
Analysis & insights for Medicare Advantage plan design, including beneficiary preference modeling, benefit scenario simulations with enrollment predictions, and competitive positioning.
Provider Network Analytics for Medicare Advantage Payors featuring the industry's most robust network dataset, down to the NPI level, and a proprietary scoring methodology.
Analysis of marketing tactics and spending effectiveness for Medicare Advantage Payors, with identification of market drivers & benchmark values derived from multiple datasets.
With comprehensive insight and detailed analysis, our revolutionary system scrutinizes critical market attributes such as table stakes & significant benefits, physician group influence, marketing spending, and time-in-market to provide payor, plan, and network-level market ranking. This unparalleled level of scrutiny offers you a thorough understanding and clear explanations for enrollment outcomes.
This level of transparency is invaluable when it comes to crafting a winning growth strategy. By understanding the intricate interplay between these key factors, you can make informed decisions that align with your organization's goals.
Empowerment is not just a buzzword – it's at the core of what xAI brings to your investment allocation strategy. Armed with this newfound knowledge and understanding, you can confidently make strategic investment decisions that maximize enrollment growth.
Request your free,
no-obligation

demo
Want to learn more about MA xAI Solutions and how it can help enhance your decision making?
Please complete this form and we'll customize the demo around your business.