How to Create a Top-Tier Provider Network with These 6 Crucial Components!
5 min read May 9, 2023 Article
5 min read
May 9, 2023
Article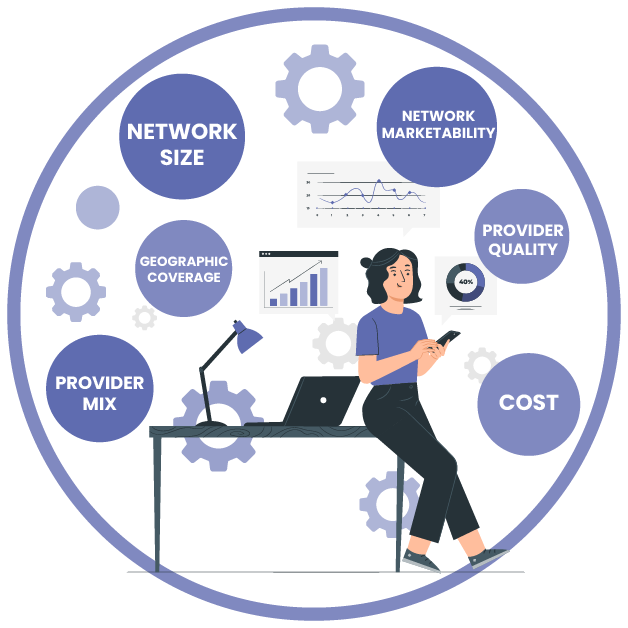 Creating a provider network that delivers high-quality, cost-effective care to members is a top priority for healthcare payors. However, many providers struggle with maximizing the benefits of their provider network. This article will delve into the six crucial components that healthcare providers need to consider when creating a top-tier provider network. Let's get started!
Here are the
six crucial provider network components that should be analyzed

when creating a better network
The most obvious component, network size, is still an important consideration, as it can impact the number and variety of healthcare services available to members. A larger network can offer a broader range of healthcare services but can also be more challenging to manage. Identifying the right size and mix for each market is critical to success.
An appropriate mix of specialists in the network is important to ensure that members have access to the right services for their healthcare needs and depends greatly on the population within the network's service area. Geographies with a higher-than-average propensity for specific diseases, targeted populations with certain health profiles, the general needs of the market, and the strategic growth of the affiliated plans will all determine the right distribution of each specialty.
#3

Network Marketability:
Certain providers in each market will have more influence, often based on their reputation, group affiliation, location, specialty, demeanor, and marketing. Including these most influential physicians in a network will strengthen the care available for members, establish credibility within the market, and provide a solid competitive foundation for the payor to compete on plan design and other attributes.
The quality of care provided by network providers is critical to ensuring positive health outcomes for members. Provider quality can be assessed using various metrics, such as patient outcomes and satisfaction ratings. It is also essential to ensure that providers are active in your targeted market, such as Medicare, encourage preventative care services, and are considered reputable by your targeted population.
The geographic coverage of the provider network is important to ensure that members have access to healthcare services in the areas where they live. It is essential to evaluate the provider network's geographic coverage and ensure members have access to healthcare services in their preferred locations, above and beyond minimum adequacy. Population density, market type (rural, suburban, urban), commuter patterns, target market, and specialty mix will all play a role in determining ideal geographic coverage.
Creating a provider network that delivers high-quality, cost-effective care to members is essential. It is crucial to continuously analyze each network's costs to ensure members receive high-quality care at reasonable rates, allowing the plan to control costs and maximize benefit richness. An appropriate mix of Provider Quality and Costs, relative to each service area, will ultimately deliver a higher value for consumers, while value-based agreements will ensure an appropriate share of risk. 
If you can assess these six components, you will have solid marketable networks, and then it's up to your plans to sell your product.
How to
Maximize

Your Provider Network
Now that we have identified the six crucial components of creating a top-tier provider network, it's time to learn how to maximize your provider network's benefits. Here are some tips to get started:
Data analytics & network research can help you identify gaps in your provider network and optimize for better performance. Analyzing competing networks, non-participating providers & groups, utilization rates, consumer satisfaction ratings, and other network KPIs can help you identify areas that need improvement and create an action plan for improving marketability, performance, and cost.
#2

Build Strong Provider Relationships:
Building solid relationships with providers is critical to creating a top-tier provider network. Working closely with providers and understanding their needs and concerns can help you create a network that meets the needs of both providers and members, creating a formula for success.
Creating a provider network that delivers high-quality care to members should be the top priority as payors. This can be achieved by identifying and working closely with high-quality providers and ensuring members have access to the appropriate specialists for their healthcare needs. Increasing communication between providers, including data interoperability, can also dramatically increase quality as providers are able to work within the continuum of care.
#4

Evaluate Network Performance Regularly:
Evaluating your network's performance regularly can help you identify areas for improvement and optimize your network for better performance. It is essential to regularly analyze metrics such as patient outcomes, satisfaction ratings, plan growth, competitive changes, market evolution, and cost-effectiveness and create an action plan for addressing areas that need improvement.
#5

Partner with HealthWorksAI:
By partnering with HealthWorksAI and utilizing NetworkIntel, you can expedite the analysis process, easily compare competing networks' KPIs, and focus on increasing access, quality, and marketability. Take advantage of enrollment opportunities due to gaps or weaknesses in your network.
NetworkIntel helps you optimize your network's size, provider mix, and geographic coverage to ensure you provide your members with the best possible care. Plus, we'll help you identify the most influential providers and high-quality hospitals to ensure that your network is truly top-tier.
With NetworkIntel, you'll have all the insights you need to improve your market position and create a network that's both competitive and profitable. So why wait? NetworkIntel today and start building the provider network of your dreams!