Research Report: The State of Part B Giveback in Medicare Advantage [Sep 2023]
September 21, 2023 Market Research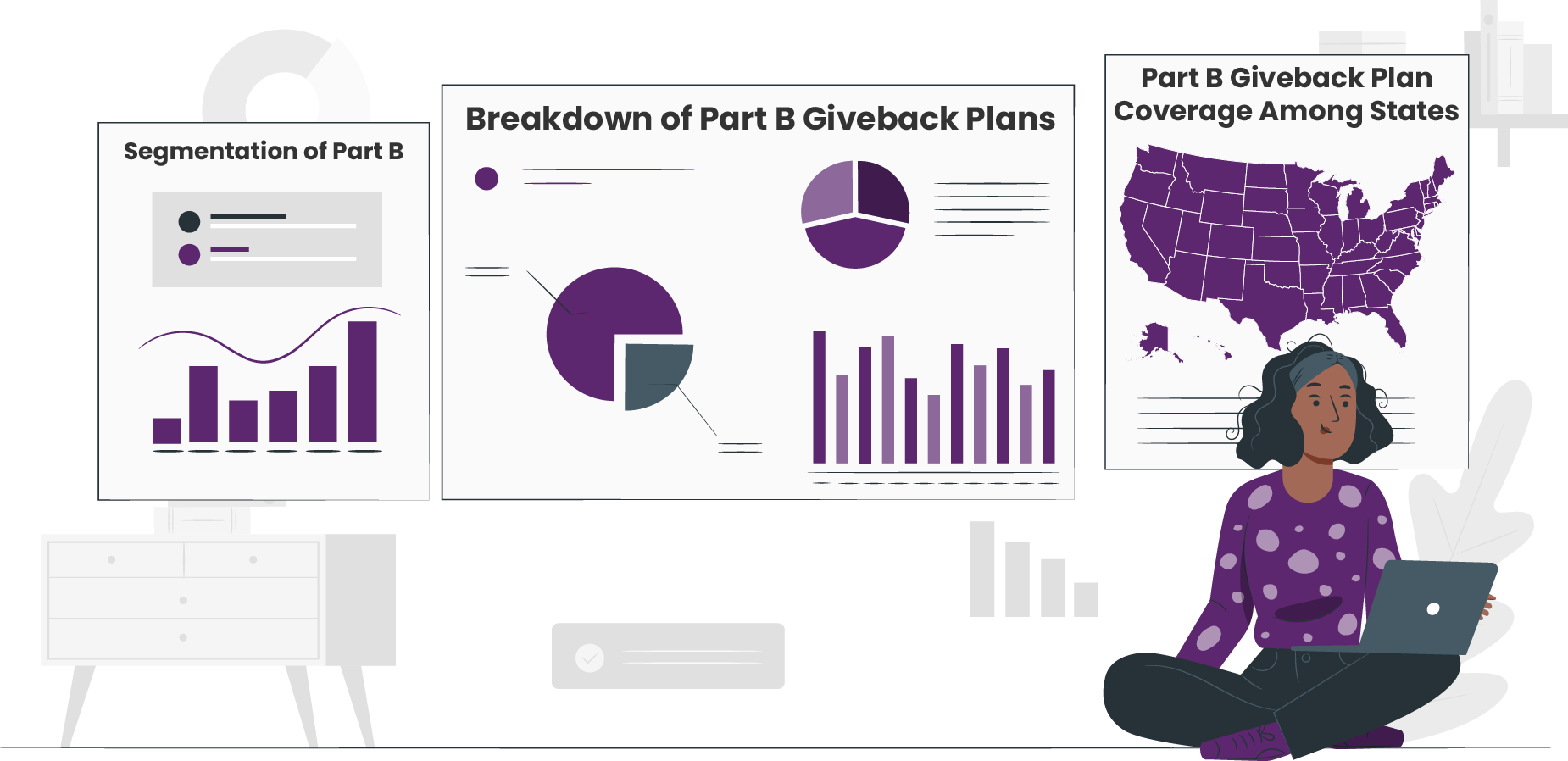 Medicare Part B is a medical insurance that covers outpatient medical services such as doctor visits, preventive services, outpatient care, and some home health care services. For these benefits, most beneficiaries are required to pay a premium each month, currently set at $164.90 for the 2023 calendar year.
Medicare Advantage (MA) plans, which cover Medicare Part C, have the option to include a Medicare Giveback Benefit, also known as a Part B Giveback, which partially or fully covers the Part B premium for members enrolled in those specific plans, helping to reduce healthcare costs for beneficiaries.
The amount of the Part B premium reduction, when offered, is at the discretion of each Medicare Advantage and may be as low as 10 cents or as much as the full Part B premium. In 2023, Part B Givebacks ranged from a low of $2 to the maximum allowance.
The prominence of this benefit has risen drastically over the past four years. As of 2019, only 2% of all plans across the country offered Part B Giveback for beneficiaries. Fast forward to 2023, that number has grown to 13%, with a near-even distribution between HMO (61%) and PPO (38%) offerings.
Non-Special Need Plans (non-SNP) account for the majority offering Part B Giveback while other SNP types, such as Chronic Special Needs Plans (C-SNP), Dual-Eligible Special Needs Plans (D-SNP), and Institutional Special Needs Plans (I-SNP), offer Part-B Giveback but at a much-reduced rate. Of the 723 plans currently offering Part B giveback, 89% are non-SNP, 7% C-SNP, and 2% each for D-SNP and I-SNP.
Breakdown of Part B Giveback Plans
Plan Type Breakdown That Offers Part B Giveback
Note: Facts and discussion revolve around only Non-SNP plans in the below sections.
Part B Giveback Plan Coverage Among States
From a geographical perspective, Florida has the topmost position, by a sizable amount, in offering Part B Giveback, with 18% of all non-SNP plans in the state providing the benefit. Pennsylvania (7%), Texas (6.5%), California (5%), and Tennessee (3.7%) round out the top 5.
The percentage of plans offering Part B giveback benefits also varies among Payors. Humana, the second largest Medicare Advantage Payor, currently offers the most plans in total with a Part B Reduction benefit but does not lead with the highest percentage.  Highmark Health, one of the top 10 largest MA Payors currently holds the top spot in Part B Reduction inclusion, with 36% of their existing non-SNP plans providing the benefit.
Devoted Health (27%), Cigna (26%), Centene (25%), and Guidewell Mutual Holding Corporation (21%) round out the top 5. Top MA Payors, Humana (largest), UnitedHealth Group (second largest), and CVS Health (third largest) finish with 19%, 14%, and 8% respectively.
Segmentation of Part B Giveback Plans
Out of total non-SNP enrollment, approximately 1.33M (7%) are enrolled in a plan offering Part B Giveback in 2023. Unsurprisingly, Florida leads with the highest enrollment count for Part B plans. However, the total only accounts for 12% of Florida's total enrollment, which puts them third behind Puerto Rico (38%) and South Carolina (14%). Louisiana, with 12%, and Pennsylvania, with 11%, round out the top 5 states with the highest enrollment percentage for Part B Giveback plans.
As somewhat expected, based on their Payor inclusion percentages mentioned in the previous paragraph, Highmark leads with the highest share of their current membership enrolled in a Part B Giveback plan at 39%, followed by Scan Health Plan at 26%, Centene at 23%, Cigna with 17%, and Humana at 12%. No other Payor recorded an enrollment percentage above 10% in 2023.
Looking deeper at the segmentation of the Part B Giveback benefit value, we'll find a range from $2 to $164.90 (full Part B premium), with a significant proportion (82%) of plans falling within the >$25 & <$100 segments. This is primarily driven by the growth of the >$50 to <=$100 segment, which increased 88% year-over-year from 141 plans to 265 plans.
In terms of enrollment, the most popular segment with consumers has been >$25 to <=$50 each year since 2020, holding true in 2023. The second highest enrolled segment is now >$100 to <=$150, which is surprising considering there are only 82 plans available nationally. 
The table below represents the segmentation of the Top 10 Payors of Part B Giveback detailing with minimum and maximum giveback amount, along with the highest enrollment and plan count in the same segment.
Top 10 Payors of Part B Giveback
The table provided underscores the intriguing disparity in Part B giveback amounts among various Payors, spanning from a wide range of $10 to $164.90 for some to a narrower range of $25 to $40 for others.
Among these 10 dynamic Payors, a significant concentration of 137 plans thrives in the >$50 to <=$100 segment, boasting an enrollment of 336K beneficiaries. In close pursuit, 82 plans cater to the >$25 to <=$50 segment, embracing an enrollee count of 170.6K.
Meanwhile, the >$0 to <=$25 segment has 87.9K beneficiaries across 19 plans, whereas the >$100 to <=$150 segment consists of 17 plans with 73.3K enrollees. These compelling figures illuminate the ascendancy of the >$50 to <=$100 and >$25 to <=$50 segments, suggesting their distinct prominence in the market.
In the dynamic landscape of Medicare Advantage, the Part B giveback feature emerges as a pivotal factor, bridging the affordability gap for beneficiaries seeking comprehensive healthcare coverage. With a diverse range of offerings, including Part B premium reductions from $2 to $164.90, major players like Humana, Centene, UHG, CIGNA, and Highmark are reshaping the market with their innovative approaches and aggressive investments.
The soaring popularity of the "$50 to <$100" and "$25 to <$50" segments signifies a shift in beneficiaries' preferences, amplifying the significance of these tailored benefits. As enrollment numbers rise, these strategic incentives are carving a transformative path towards more accessible and comprehensive healthcare options, epitomizing the essence of Medicare Advantage's evolution.