2022
Post AEP

Findings Report
With a vast range of Medicare Advantage offerings designed to cater to the masses, developing the right mix of design features and costs is a daunting task for each participating organization. As of January 2022, enrollment in Medicare Advantage plans has reached 23.5 million, a 9.8% increase over the 21.4 million last year. To meet the needs of the market, the 2022 Annual Enrollment Period (AEP) saw an addition of 452 net plans in total, a rise of 9.1%. While slightly lower than the 12.8% increase seen last AEP, a significant increase none the less. This report was developed to highlight the major enrollment changes in plan type and various cost buckets within the Medicare Advantage market as well as demonstrate how the market has evolved over the past 5 years.
Individual Plans vs Group Plans Overview
3.3 MA Vs MAPD Highlights
5.1 HMO PPO Plan Overview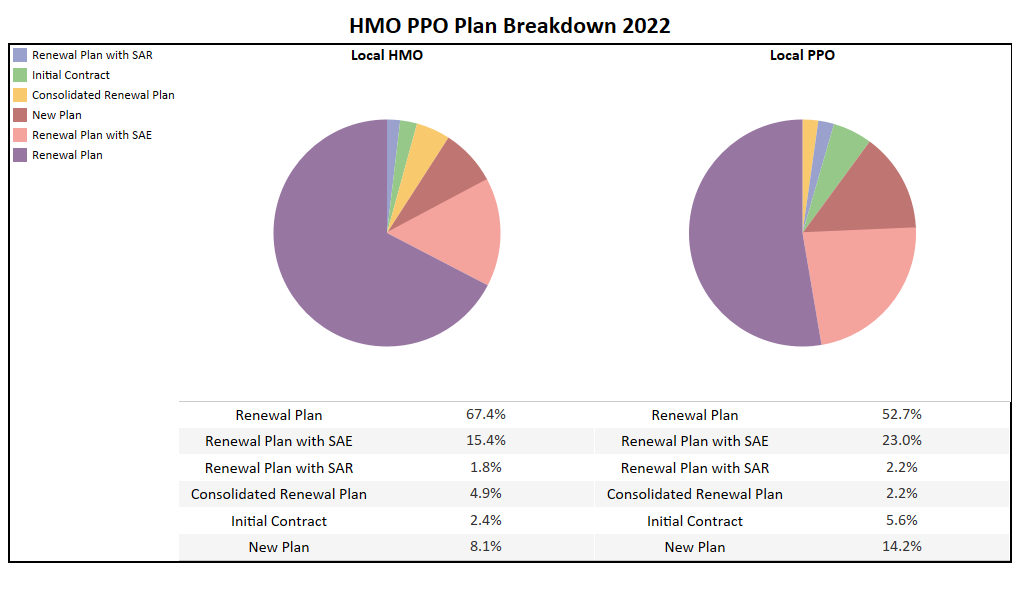 5.2 HMO PPO Enrollment Overview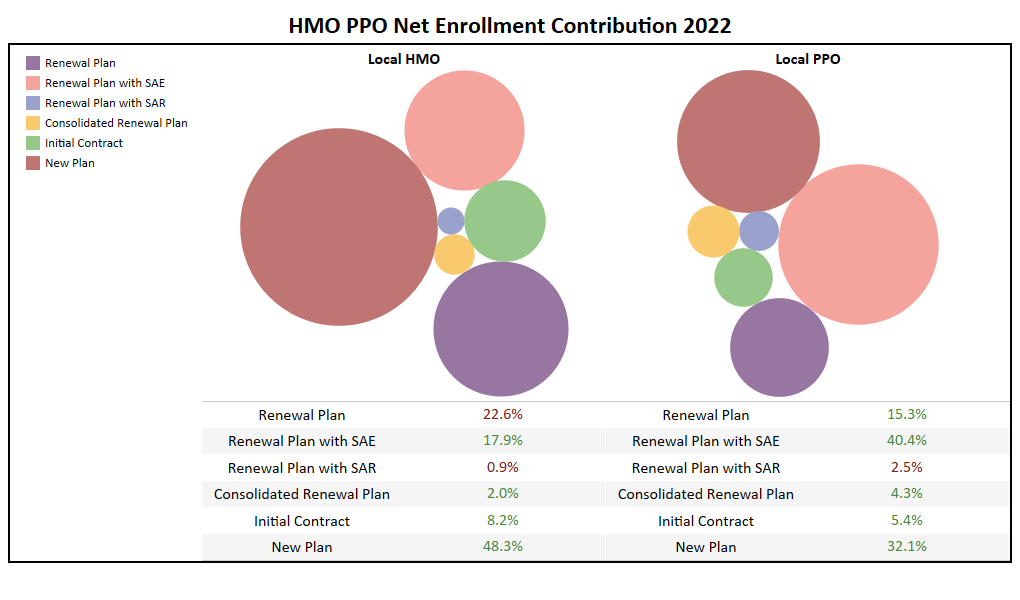 5.4 HMO PPO Premium Segments Overview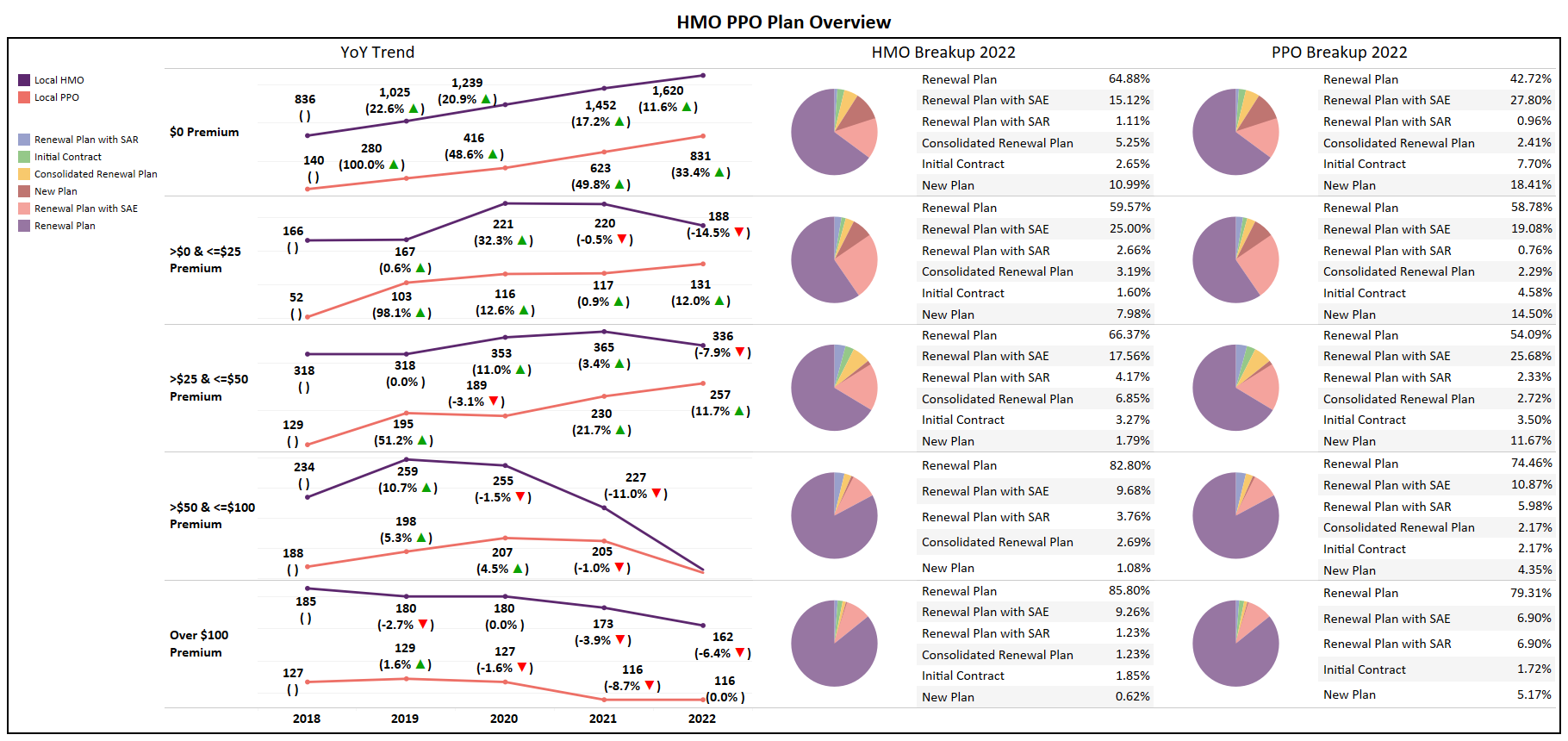 5.5 Other Plan Types Plan Overview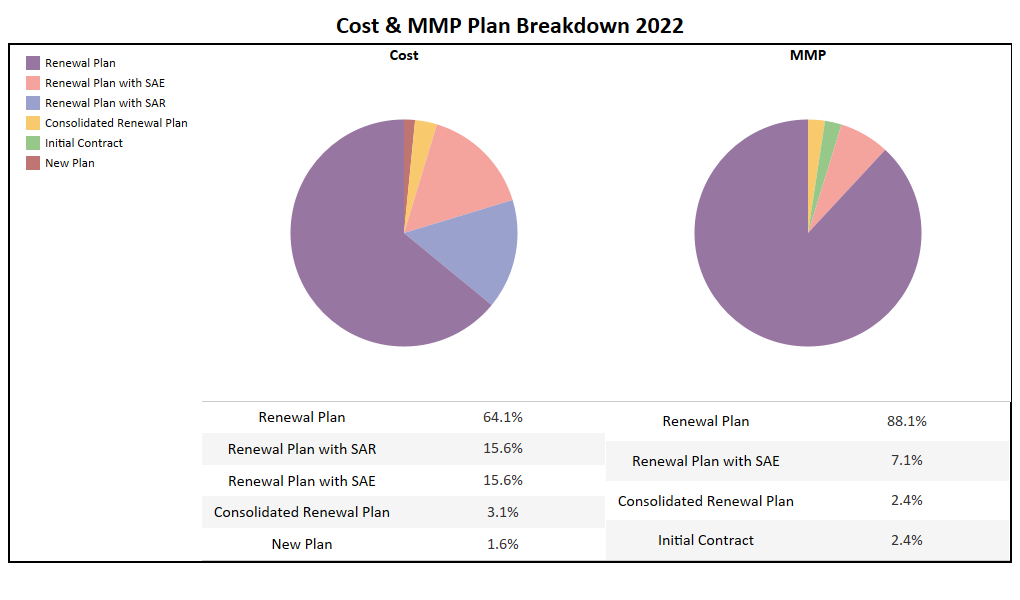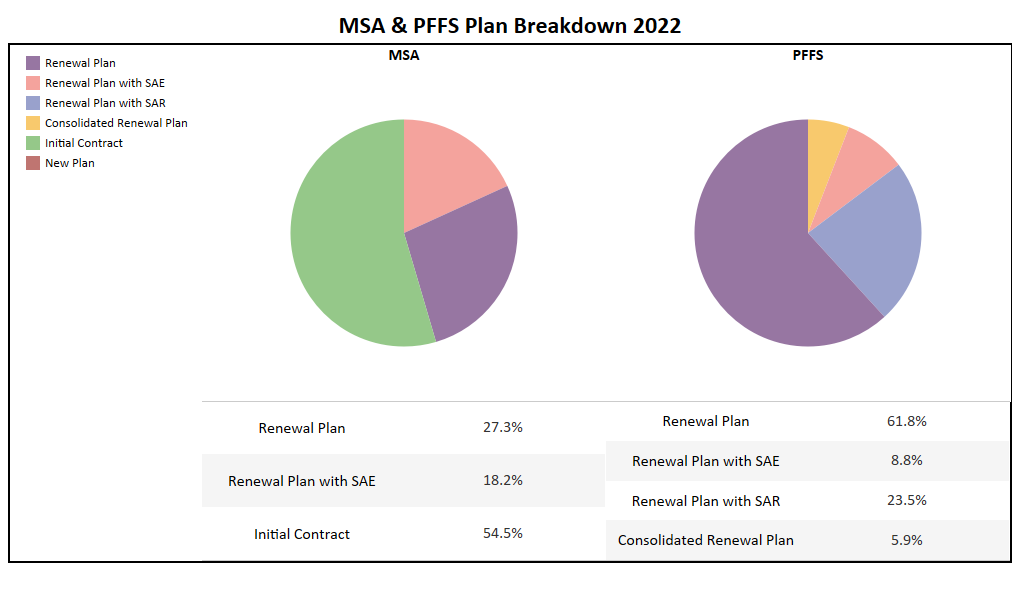 5.6 Other Plan Types Enrollment Overview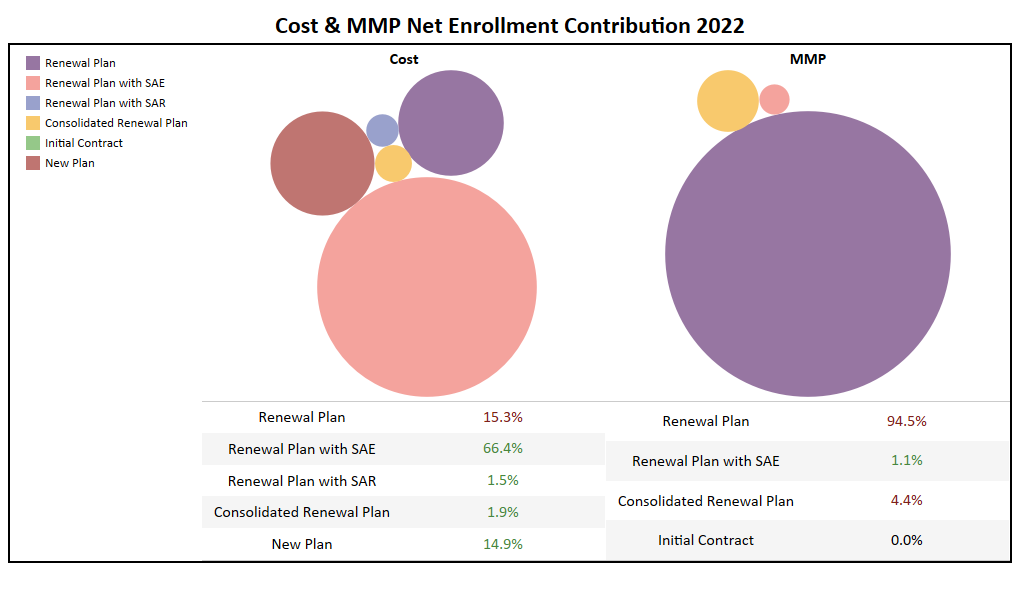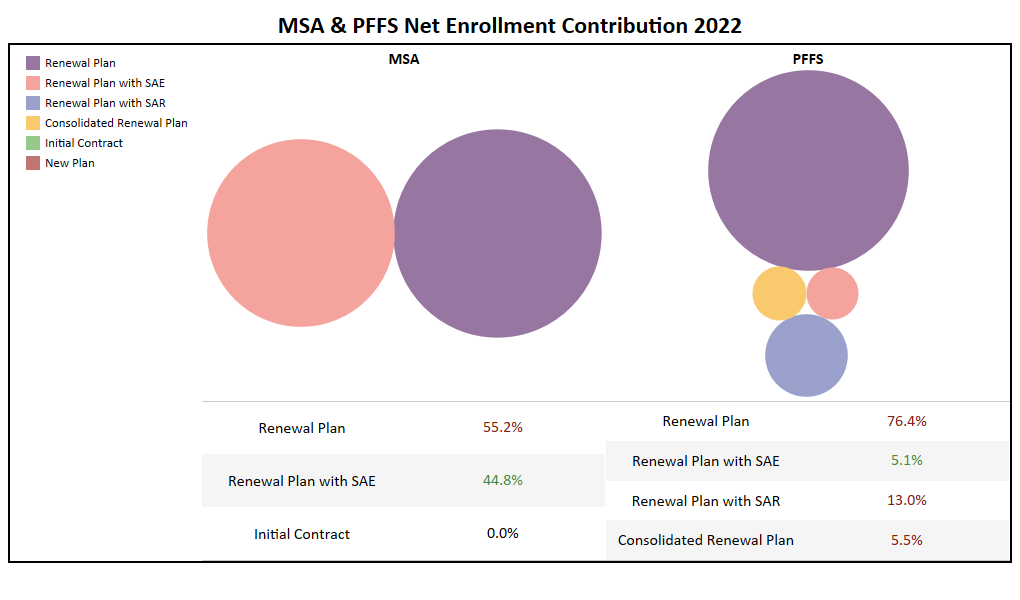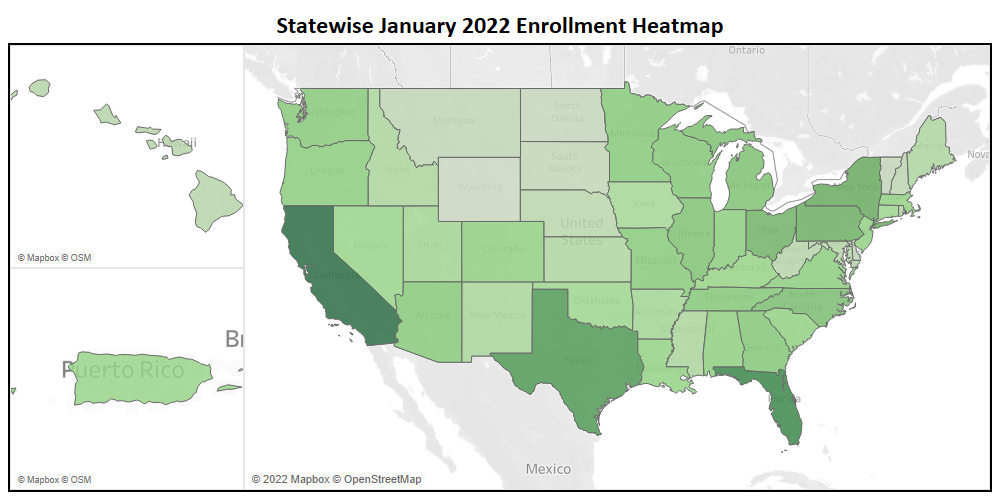 When we think about the top states in the country for Medicare Advantage, we tend to focus on total enrollments as the determining factor. In doing so we fail to identify emerging markets and instead focus on saturated markets with high populations. However, this can be a good starting point to evaluate potential shifts across the nation. The heatmap below shows us which states had the highest enrollment in January.
Unsurprisingly, California, Florida, and Texas have the highest total enrollment in the country, a position they have held for a while. Though these states have a high number of eligibles, entering such saturated markets will likely result in tough competition and high marketing investment for most organizations.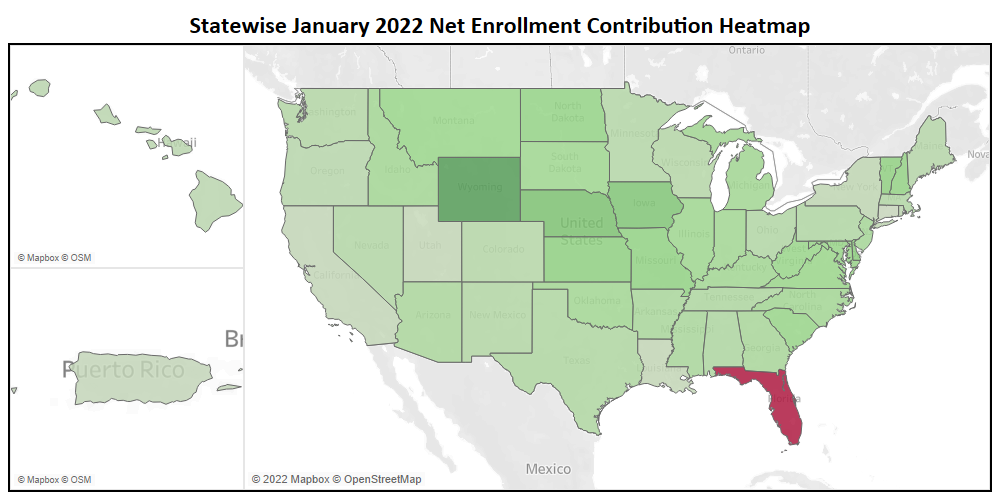 A different way to evaluate state-wise performance is to focus on markets with the highest net enrollments YoY. Doing so allows us to identify markets that are growing the fastest and often indicates saturated markets with high population coupled with high potential. While this helps shorten the list of true emerging markets, it also has challenges as these states are also typically highly contested markets with substantial competition. The heatmap below shows the states with the highest net enrollment gain from December 2021 to January 2022 (AEP impact). Texas, Missouri, and Illinois were the top three states in terms of net enrollment this AEP.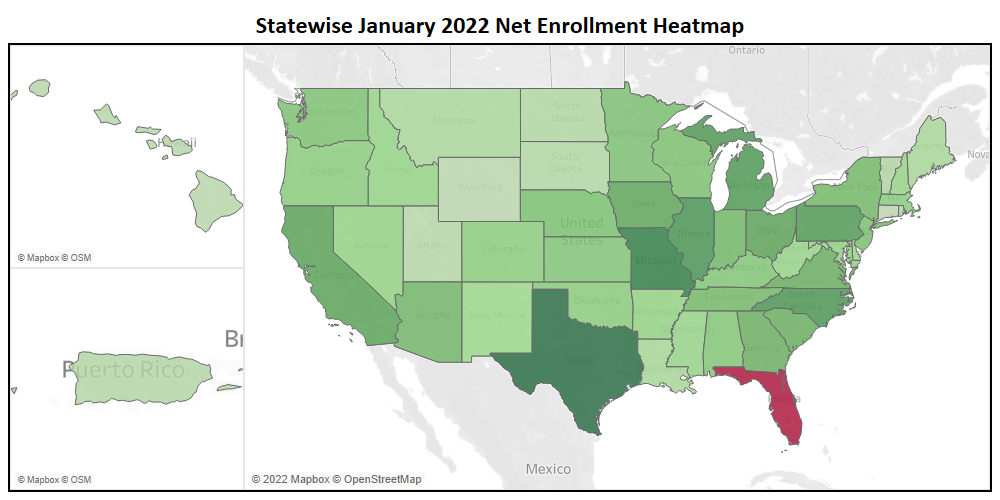 By altering our approach and calculating what percentage of the "total enrollment" was explained by the "net enrollment" we can better identify markets with high potential. This metric allows us to identify the states which are most active now and experiencing the highest growth relative to their size. We often refer to these as "emerging markets". The heatmap below shows us emerging markets following the 2022 AEP.
Parent Organization Overview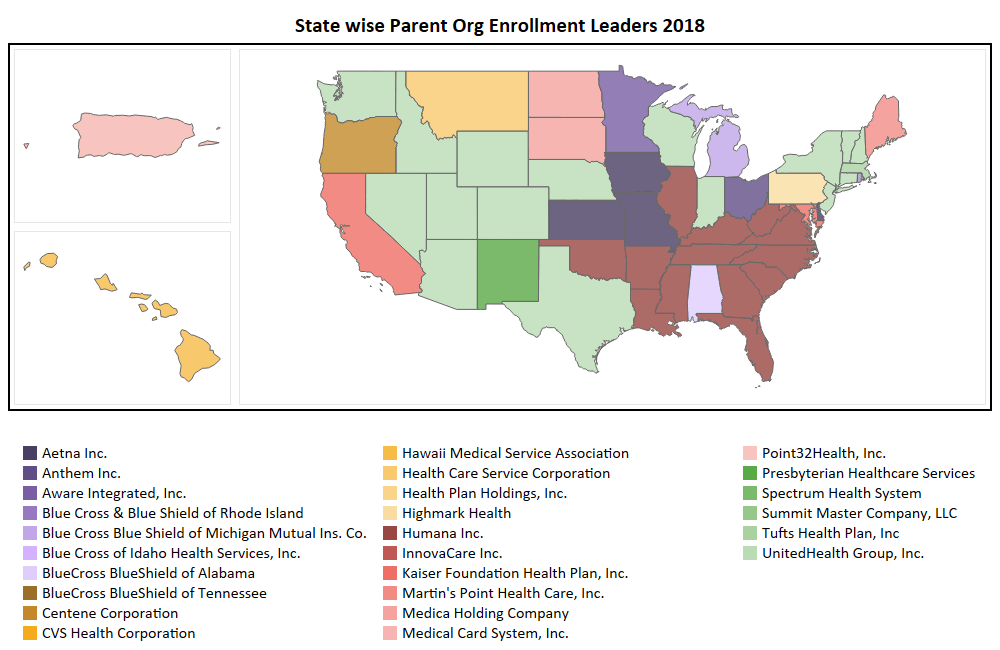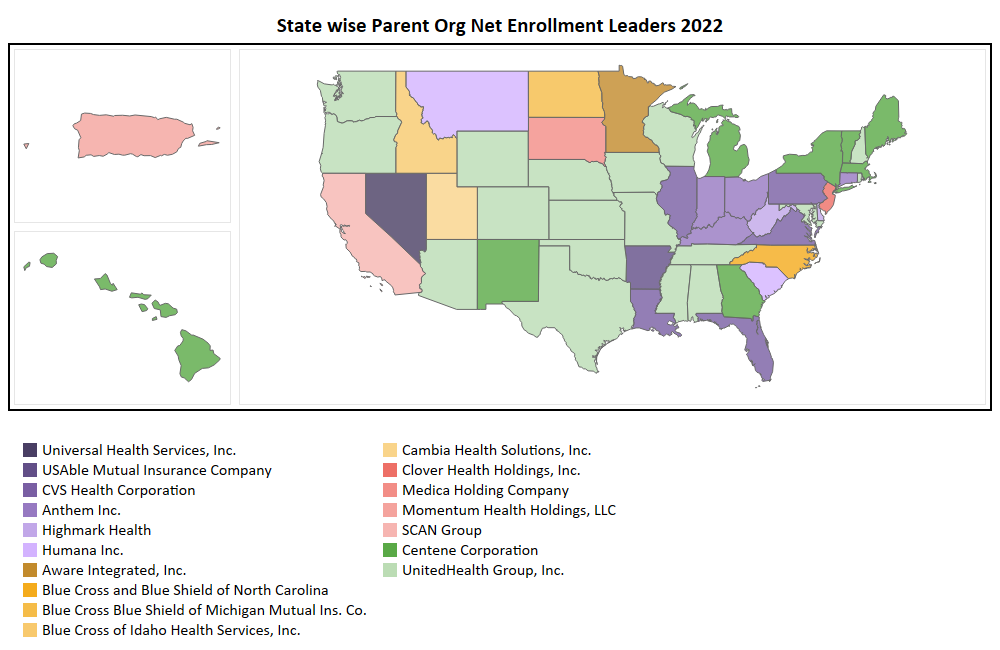 This section focuses on Payers, classified by their Parent Organization, at a national level. It is important to note that focusing on Parent Organizations at a National level is not an ideal way to gauge true performance. Multi-state Payers will always tend to have higher enrollment numbers even when they are not considered the best performers in their respective markets. Focusing on performance at the market level would allow us to understand the performance of Parent Organizations but is far too comprehensive for a general overview.
The below animation showcases how over the years United Health Group and slowly spread to become the top Payor in most of the states followed by Humana. However, there are a few states that dominated by Blue Cross Blue Shield Organization like Rhode Island and Alabama.