2024 AEP Insight Series: Report 2 📊
Diving Deeper: Analysing Medicare Advantage Plan Diversity in 2024
October 06, 2023 Market Research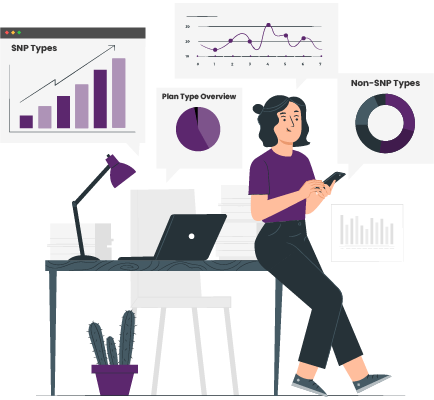 In the ever-evolving landscape of Medicare Advantage (MA) plans, 2024 reveals intriguing trends among different plan types, which we'll cover in our research. This article investigates how the changes in plan dynamics over the past five years have influenced an expansion of the market by providing a detailed analysis of plans, focusing on the proportions and significant developments on delving deep into the Non-Special Needs Plans (Non-SNP), Dual Eligible Special Needs Plans (D-SNP), Chronic Condition Special Needs Plans (C-SNP), and Institutional Special Needs Plans (I-SNP) that have played a vital role in shaping the landscape. Our analysis also extends to the realms of HMO and PPO plan categories. Let's embark on the intricacies of this transformative year in MA, which are drawn by CMS landscape and crosswalk data.
Special Needs Plan Types:
In 2024, among the 5,797 plans, the majority, comprising 76%, fall into the Non-SNP category, followed by 15% for D-SNP, 6% for C-SNP, and the remaining 3% designated as I-SNP plans. However, it's worth noting that historically, there has been a consistent decrease in the proportion of Non-SNP relative to the total number of plans, while the D-SNP segment has displayed a constant increase.
Furthermore, it's important to highlight that although there is an increase in the number of plans across D-SNP by 8% year-over-year (YoY) and C-SNP plans (1%), the plan count of I-SNP decreased by 8%. In contrast to all SNP types, the number of Non-SNP plans remained unchanged compared to the previous year.
After a decline in the count of new Non-SNP plans in 2022, there was a resurgence in 2023 with 653 new plans introduced, an increase of 82 over the previous year. However, 2024 saw a significant reduction of 27% YoY, totaling only 477 new plans.
Within the SNP category, there was a decrease in the number of new D-SNP plans by 1% YoY, while I-SNP plans experienced a more substantial reduction of 10% annually. C-SNP, on the other hand, defied the trend by increasing the number of new plans by 14% YoY.
In 2024, a conservative trend was also evident at the state level, as approximately 56% of states did not have the introduction of any new SNP plans. This trend was further supported by the fact that major MA markets like Texas, California, and Florida experienced a 21%, 11%, and 5% YoY decline, respectively, in total C-SNP plans. Within the Non-SNP category, 27 states observed a decrease in the total number of plans, with Alabama experiencing a significant decline of 23% YoY.
At the national level, HMO plans constituted approximately 61.7% of the total plans in 2024, slightly down from 63.6%. Though the total count of HMO plans increased, YoY change was progressively declining until 2023; however, in 2024, not only did the count decrease, but also saw a 2% decline in YoY rate. On the other hand, PPO plans currently amount to 2,045 total plans, up 7% YoY, though far less than the 2023 growth of 15.5%.
Other plan types, including Cost, MMP (Medicare-Medicaid Plans), MSA (Medical Savings Account), PFFS (Private Fee-for-Service), and Regional Plans, collectively account for approximately 3% of the total plans. Compared to 2023, apart from MMP, which saw a modest rise of 7% YoY, both Cost and MSA have fallen by two plans, while PFFS dropped by 15% YoY, and Regional PPO decreased by a single plan in 2024.
In the shift from 2023 to 2024, both HMO and PPO new plans faced declines of more than 80 plans each. Interestingly, HMO plans had recovered their growth in 2023 compared to 2022, only to decline again in 2024, while unexpectedly, PPO plans experienced a decline in new plans for the first time in our analysis.
Breakdown of HMO and PPO Based on SNP Types:
Of the total Non-SNP plans, HMO accounts for 55%, a drop from 64% in 2020; however, PPO plans constitute 41% of the total 4,429 Non-SNP plans, up from 39% over the same period. Both HMO and PPO plans experienced a decline in new plans, with HMOs decreasing by 36% YoY with only 207 new plans and PPOs falling by 19% from 330 to 268 plans.  
At the state level, Florida, having the highest number of total HMO plans, has seen a 3% decrease YoY, while for PPOs, Texas, in the third spot noticed a similar pattern with a 12% decline. California, interestingly, saw a decline of 21 HMO plans in 2024 and an increase of 20 PPO plans. Both in new HMO and PPO plans, California ranks number one; however, PPOs saw a rise (+3 plans), and HMOs noticed a decline from 50 to 27 plans. The percentage of states demonstrating a decline in new HMO plans accounts for 52%, primarily in Tennessee (-87% YoY) and new PPO plans of 60%, notably by Oklahoma (-89%).
Under the D-SNP category, total plans in HMO and PPO increased over the years with 6% and 21% YoY growth, respectively, but there is a decline in new PPO plans from 41 to 28. On the other hand, after a minor drop in new plans in 2023 (from 112 to 94), HMO rebounded to 106 in 2024, showing an increase only in this category.
Around 28% of states showed a YoY decline in total HMO plans, while a decrease in new plans was only seen in 17 states, majorly Wisconsin (-83%). In addition, roughly 25 states maintained the same total number of PPO plans this year, while approximately 32% of states did not introduce any new PPO plans. Florida and Texas lead in both the total and new plans for D-SNP HMOs.
In terms of absolute number increase, Texas added the most total (11) and new (12) plans in the HMO plan type. For PPO plans, Georgia had the highest count of total plans, while Mississippi led in new plans. 
The Medicare Advantage landscape reflects a notable shift towards conservatism among payors, evident by the reduced introduction of SNP plans, declining Non-SNP plan counts in several states, and the overall slower pace of plan expansion, signifying a cautious approach among them.
State-level variations highlight the evolving nature of the market, with certain states showing growth and others experiencing declines in plan offerings. As we saw, the fall in new plans of PPO, a first-time occurrence in the current year, coupled with the continued decrease in HMO total plans, indicates that the market is tightening by limiting the choice to beneficiaries. Will the market saturate at this rate?
Stay tuned for more 2024 AEP Insights from HealthWorksAI!