2024 AEP Insight Series: Report 1 📊
Decoding the 2024 Medicare Advantage Landscape
October 04, 2023 Market Research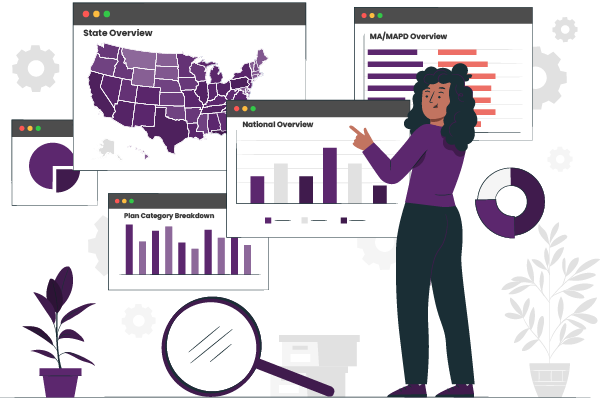 Medicare Advantage (MA) continues to grow rapidly, surpassing 31.9 million enrollees as of September 2023, and is expected to reach over 33 million during the 2024 Annual Enrollment Period (AEP). Despite the competitiveness in the MA segment, market growth of only 53 plans in 2024 represents a conservative increase of less than one percent, untypical of the market over the past five years.
This article provides insights into the national distribution of these plans in 2024, accompanied by a state-level overview, highlighting key takeaways for MA Only and MAPD plans. All insights are drawn from CMS landscape and crosswalk data released on October 2nd, 2023.
Note:
Categories of plans will be represented in italics (e.g.: Renewal Plans, New Plans).
New Plans (without italics or capitalization) indicate both New Plans and Initial Contracts.
Over the past five years, the total number of Medicare Advantage plans has continuously increased, reaching 5,797 in 2024, though the growth of 0.9% is the lowest in recent history, down from 6.3% last year. The slowed expansion of the market is due in part to the reduction in new plans introduced, which has seen a year-over-year (YoY) decline from 881 to 712, accounting for only 12% of the total in 2024.
The total number of plans is divided into several categories, which include Renewal Plans, Consolidated Renewal Plans, Renewal Plans with Service Area Expansion (SAE), Renewal Plans with Service Area Reduction (SAR), Initial Contracts, and New Plans. The most prominent category, Renewal Plans, historically represents 57% to 61% of the total plans, and after an off-trend dip in 2023, has rebounded with 3,789 plans in 2024, reaching 65% of the total share.
The Renewal Plans with SAE category noticed an increase in plan counts through 2023 before facing a significant dip of 34% YoY in 2024. In balance with SAE counts, Renewal Plans with SAR and Consolidated Renewal Plans observed a moderate increase in 2024, further indicating a conservative expansion year for Payors.
Furthermore, Initial Contracts have gradually decreased over the past five years, reaching only 61 plans in 2024, whereas the New Plans segment has seen only a slight decline, similar to 2022.   
Florida, California, Texas, Pennsylvania, and New York are the top five states with the highest number of plans, as they have been for years. Interestingly, Pennsylvania was the only top state to exhibit an increase in the total number of plans (+19) in 2024. The largest state-wise growth, however, belongs to Colorado, which increased by 20 plans, a 20% increase. Conversely, 48% of states noticed a decline, the largest nationwide drop in recent years.
While some emerging markets saw continued growth (YoY) specific to new plans, including Kansas (129%), Maryland (86%), Delaware (83%), Nevada (73%), and Indiana (52%), 31 other states experienced YoY declines in of new plans for 2024, most notably in Rhode Island at -88%. Wyoming and Vermont are the only two states without any new plans for the upcoming year.
In 2024, the MAPD segment will see an increase in the total number of plans; however, the YoY growth rate is a declining trend, as is the trend of the new MAPD plans, which has dropped 17% YoY. Contrarily, MA Only plans witnessed a decrease in both total plans and new plans with a YoY change of 1% and 43%, respectively.
Florida, California, and Texas have the highest count in both total and new MAPD plans. But in Texas and California, the total number of MAPD plans was less than the previous year, while in Florida, it remained unchanged. However, there was a decline in the number of new plans across all three states. In 2023, Texas held the top ranking for total MA Only plans, but it was surpassed by Wisconsin, which has 35 plans in both 2023 and 2024.
The key takeaway from this article emphasizes that 2024 represents a very conservative expansion year for Medicare Advantage Payors. In a nutshell, the total number of plans has continued to rise, but at a much slower pace. An increase in both Service Area Reductions and Consolidated Renewal Plans coupled with decreases in Service Area Expansion, New Plans, and Initial Contracts may be an anomaly, spurred by recent regulatory changes, or this could represent a maturation of the market. Only time will tell.
Stay tuned for more 2024 AEP Insights from HealthWorksAI!